The Sexiest Halloween Costumes (11 pics, No Pop-ups!)
Its that time of year again where spooky turns to sexy. These sexy Halloween costumes don't have us complaining. It's an American tradition–everything here is sexier. In America, we weaponize sexy (here's to targeting you, ISIS). No holiday is immune to our powers of perfunctory passionate pandering to people's base desires. Halloween just gives people another excuse to piss off ISIS and have fun while doing it. Here's to the freedom to be who you want to be, wear what you want and show off your ASSets (we won't stop you).
1. Sexy Leopard
The sexy leopard will always be a classic. The skin-tight catsuit (get it?) accents all the beautiful curves of this graceful predator. Be sure to be on your guard or you'll find yourself ambushed by the queen of the jungle.
2. Little Red Riding Hood
My, my, what big…eyes you have. There is something about a beautiful damsel ignoring the possibility of the Big Bad Wolf and carrying on with her mission. Make no mistake, she's brave and capable and the Big Bad Wolf might be in for a surprise if he tries to take her, as we're betting she's got a Glock in that picnic basket.
3. Wonder Woman
Given the success of the hit DC Comic movie showcasing Gal Gadot, it's no surprise that women everywhere want to be Wonder Woman. The ex-Israeli Defense Force member made being sexy and badass pair up together like Macaroni and Cheese. Guys, you'd better watch out for this one! You never know if you'll be kissing or getting an ass-kicking.
4. Copyright Infringement Safe Female Vigilante/Criminal
You've got to love how people find loopholes in copyright law. The slight change in phrasing doesn't make the fishnets and penchant for being a little bit naughty any less sexy.
5. Sexy Tuxedo Cat
We're not sure what to think of this costume. It's certainly easy on the eyes, but mildly confusing. Are you a cat? Are you a french maid? We don't know and to be honest, we doubt we'll ask those questions anyway.
6. Sexy Referee
Maybe we wouldn't give a damn about all the protests if the referees looked like this. We'd be praying for someone to commit a penalty just so we could get a closeup of this beauty. Ladies: Don't penalize us for excessive staring if you rock this costume on Halloween, we just may not be able to help it.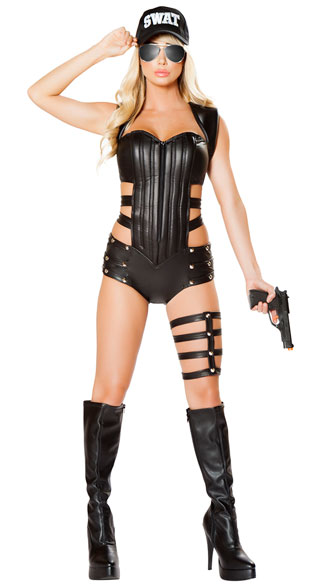 7. SWAT Officer
While highly impractical, none of us would be thinking about resisting arrest if police showed up at our door like this. The sexy police officer gets a new spin this year. Guess it doesn't need to be practical for stopping bullets if your outfit causes our hearts to stop. Is there a Sexy Nun to give us last rites too? Or a nurse to revive us? Sexy Halloween costumes just keep getting better!
8. Sexy Nun
Praise the lord and pass the ammunition. This outfit will have your main squeeze praying that you never leave. We've got some confessions to make, as we've definitely had impure thoughts regarding our Sexy Nun.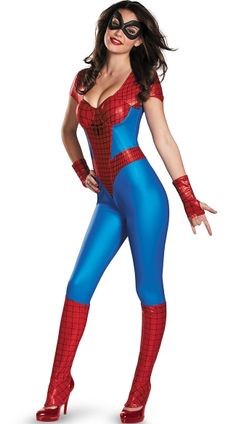 9. Sexy Spiderman-Woman
Given all the conflagration lately regarding genders and what someone is or isn't, were even more confused with this costume. Technically, this is legitimately a Spider-man costume, but its a really hot chick wearing it, so is it Spider-man or Spider-woman, or a combination? To hell with it, we're still hoping to get webbed up!
10. Sexy Nurse
Sweet! We have the nun to read us last rights after the Sexy SWAT officer stops our heart, and now we have a beautiful nurse to revive us. We'll probably think we're dead with this heavenly beauty. Sexy nurse is a staple in the sexy Halloween costumes game, don't ask us why. Instead, ask us why not! Either way, we can't give you an answer.
11. Big Bad Wolf
Much like the sexy leopard, this big bad wolf is on the hunt and she'll likely see you before you see her. With any luck, she'll be hungry like the wolf for you, and we're pretty much all good with that. This is a nice addition to the sexy Halloween costumes already phenomenal lineup.